Wayne Carey
Category: Sporting Hall of Fame
Sport: Australian Rules football
Year Inducted: 1996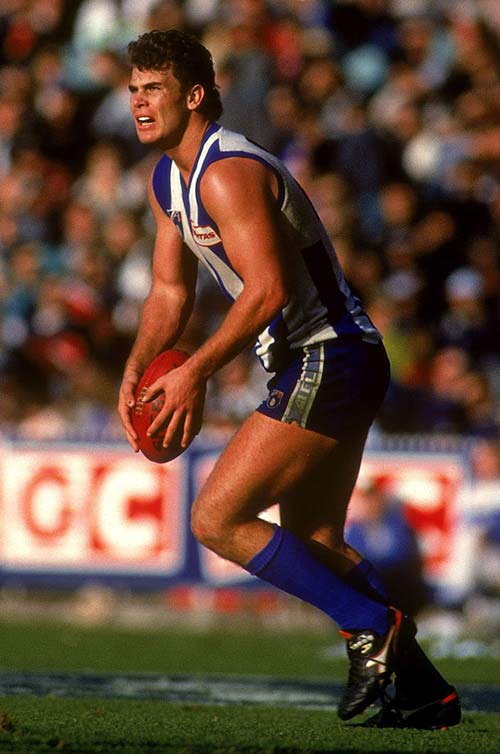 ---
"Apart from the obvious talent, it was the confidence and the mental toughness that made him stand out." Denis Pagan, former Kangaroos coach
Nicknamed 'The King' or 'Duck', Wayne Carey is generally considered to be one of the greatest players to have ever played Australian Rules football.
Born on 27 May 1971 at Wagga Wagga, Wayne's football career began in 1979 when he began playing Australian Rules with the North Wagga Saints. Four years later, Wayne was selected in the NSW State Primary Schools team, and in 1986, he joined the North Adelaide U15 Special Squad.
Wayne joined North Melbourne Football Club (the Kangaroos) as a sixteen year old in 1987, and starred in their Under 19s premiership side in 1988. He made his debut with the club's senior side the following season.
Right from the outset, it was clear the Kangaroos had signed somebody special. As a player, Wayne quickly built a reputation as an aggressive, big-marking and goal-kicking forward. He was fast on his feet and his kicking precision was exceptional, even under the most extreme pressure.
In 1993, 21 year old Wayne became the second youngest club captain in VFL/AFL history. He led the Kangaroos to eight consecutive finals, playing 244 games with North Melbourne, captaining the club's 1996 and 1999 premiership sides, winning the North Melbourne best and fairest four times and being named in the All-Australian side seven times, four times as captain.
After a controversial end to his career with North Melbourne in 2002, Wayne rejoined the AFL playing the next two seasons with the Adelaide Crows.
When he retired, following the 2004 AFL season, Wayne had played a total of 272 games and had kicked 727 goals.
In 2010 Wayne was inducted into the Australian Football Hall of Fame, and his media career was reignited with a guest panellist spot on One HD's One Week at A Time along with semi-regular guest appearances on the Marngrook Footy Show.
Wayne now lives in Melbourne where, on 21 November 2014, he and partner Stephanie welcomed baby Charlotte into the world. Today, Wayne works in media with radio station Triple M, where he has a regular commentary role, and on television with Channel 7, sitting at the front line of their flagship Friday Night football alongside the game's most decorated commentators. He also writes a weekly column in The Age newspaper.