Greg Brentnall
Category: Sporting Hall of Fame
Sport: Rugby League
Year Inducted: 1996
---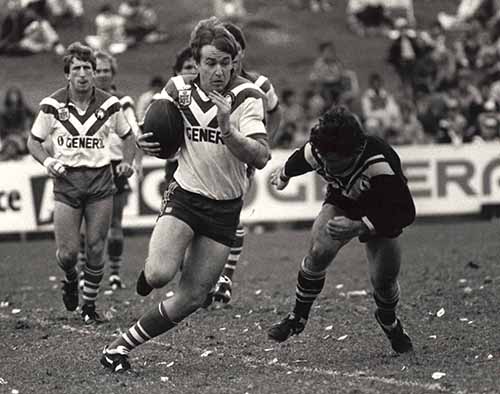 "The Wagga star… has one of the longest kicks in football and the potential to develop into a top class goal-kicking fullback." The Canberra Times, 7 May 1975
Greg was born in Wagga Wagga on 5 December 1956, and attended Maria Goretti and Bishop Henschke Primary and St. Michael's and Trinity High Schools. Like many local boys, he grew up playing both Australian Rules and rugby league. His dad Mal was a well-known local identity, having been Program Director at radio station 2WG for 50 years.
Greg was an excellent Australian Rules player up until 1973, playing with the Turvey Park Bulldogs, and representing NSW in the Teal Cup. The following year he switched to rugby league and joined the Turvey Park Lions, winning premierships in 1975 and 1976. He also represented NSW Country both years.
He was recruited by Canterbury Bankstown in 1977, and played four State of Origin matches, and made the first try in the very first State of Origin of 1980. Making his international debut that same year, Greg played thirteen Test matches for Australia between 1980 and 1983, including the 1982 Kangaroo Tour. He also played 13 minor games on the 1980 New Zealand Tour and 1982 Kangaroo Tour.
An emergency switch in club positions late in 1980 helped secure Greg a permanent spot in the Australian Test side. Since he first played for Canterbury Bankstown's first grade side in 1977, Greg had played the centre position. It was in that same position that Greg made his Test debut, as a virtual stand-in for Steve Rogers, on the 1980 tour of New Zealand.
When Canterbury's regular fullback, Stan Cutler, was injured as the 1980 season was drawing to a close, the Bulldog's selectors turned to Greg as his replacement. He instantly mastered his new position, and played a major role in Canterbury Bankstown's Premiership successes.
The following season, Greg established himself as Australia's number one fullback, and played both Tests against the touring Frenchmen. Greg was a strong player, safe under pressure and with a good turn of pace in attack.
In 1982 Greg was at his brilliant best, starring in Australia's clean sweep Test Series against New Zealand, Papua New Guinea, Britain and France. His performances for Canterbury Bankstown that year won him Canterbury's first Rothman's Medal as the Best and Fairest player in the Sydney Premiership competition.
Following an injury-plagued year in 1983, 26 year old Greg called it a day, retiring from football and moving back to his native Riverina, where he began promoting the game in which he excelled. He was the Regional Development Manager for the ARL based in Wagga Wagga.
Defining Moments and Challenges
There were two defining moments in Greg's sporting career, both occurring in 1980. The first was representing the Australian Kangaroos for the first time in Auckland, and the second, was the Bulldog's Grand Final win over Easts following a memorable season. It was Greg's towering punt that resulted in Steve Gearin's fabulous try in that match.
Greg's greatest challenge in his early sporting career was overcoming injuries, and his greatest influence in life was his dad Mal, who instilled in Greg his love of all sports and his sense of fair play.
Greg's favourite quote is 'there's no substitute for hard work', and his advice to those following him into the game? 'Be the player that everyone wants to play with.'
When the Melbourne Storm Rugby League Club was established in 1998 Greg moved south to take up an assistant coaching role alongside former teammate Chris Anderson. Since that time, he has fulfilled a number of positions within the Storm's Football Department, including Football Manager (2000 – 2004) and Player Development Manager (2005).
In 2006 Australian Rugby League and the Melbourne Storm agreed to establish a new business unit named Melbourne Storm Development. This unit is responsible for overseeing the future direction of the game in Victoria. Greg worked in the position of General Manager of Melbourne Storm Development and was also appointed Chairman of Victorian Rugby League.
Melbourne Storm has honoured Greg by naming the young achiever trophy (under 18 player) after him.
Greg still works with the Storm, and keeps a close eye on the development of the game in Southern NSW and hopes to see a radical change in how talented youngsters can develop their football ambitions. Ideally, he would like to see pathways for country kids developed, in which they don't feel like they are missing out on the same opportunities as their city counterparts.
In 2015 Greg returned to Wagga Wagga to speak at a Bush Footy forum alongside David Barnhill and Andrew Ryan ahead of the City-Country game, and today, is still a regular visitor to his former hometown.