Scobie Breasley
Category: Sporting Hall of Fame
Sport: Horse racing
Year Inducted: 1998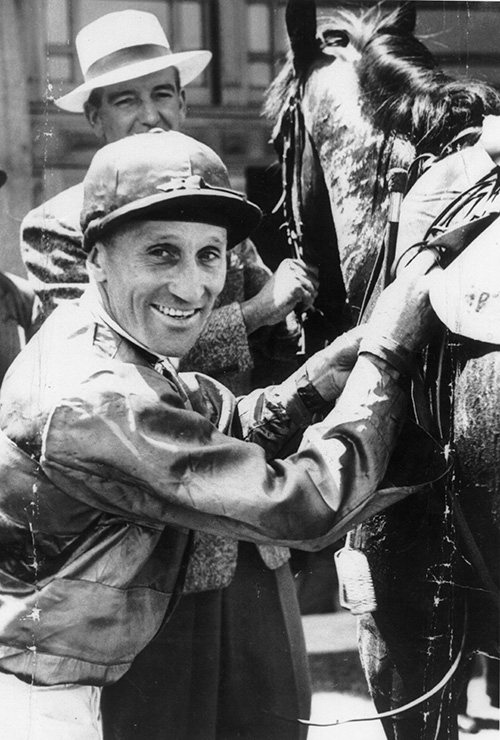 ---
"Never were a man and horse more at one than when Scobie slipped into the saddle." Les Carlyon, author and journalist
Arthur 'Scobie' Breasley, arguably the greatest jockey Australia has produced, was born in Wagga Wagga on 7 May 1914, the sixth of seven children of cattle drover Sid and his wife Emily. When asked by a journalist in 1945 why he became a jockey, Scobie answered 'How could I be anything else? My father trained and raced gallopers in the Riverina, and my only brother S.T. who now trains and races Errand Boy, was a jockey. So I naturally became a jockey too!'
Arthur's nickname 'Scobie' originated from his youthful hero worship of the top Australian trainer Jim Scobie, whose fortunes he closely followed.
After leaving school at the age of twelve, Scobie worked in local stables before becoming apprenticed to the Melbourne trainer Pat Quinlan, and rode his first winner, 'Noogee', in Werribee, Victoria. He was just fourteen.
At the age of sixteen, Scobie won his first major race - the 1930 AJC Sydney Metropolitan Cup - riding 'Cragford', and before long, had developed a reputation for ruthless riding, owing to his obsession with steering his mounts towards the inside rail.
Over the next twenty years, Scobie became, and remained, one of Australia's top jockeys. Champion jockey of Victoria four times, he won the prestigious Caulfield Cup on four successive occasions. The only race that eluded him was the Melbourne Cup, which he failed to win in sixteen attempts.
After World War II, Scobie travelled to England, where he hoped to further his career. In 1951 he won his first classic – the 2000 Guineas Stakes at Newmarket – riding 'Ki Ming'. That same year, the Breasleys (Arthur and wife May) returned home to Australia, partly due to May's homesickness.
They were however lured back to England in 1953 by trainer Noel Cannon and they settled happily in their new London house, which would become their principal home for the next 30 years. Scobie's first two years in England were satisfactory but not spectacular and he was admired for his quiet style, his ability to squeeze the best out of the horses he rode without punishing them unduly and for his split-second timing.
From 1953 he was a favourite jockey of Queen Elizabeth II.
In 1954 Scobie won the 1000 Guineas Stakes on 'Festoon'. Three years later, he won the Prix de L'Arc de Triomphe, the richest horse race in Europe.
Scobie won his first English Derby, riding 'Santa Claus', in 1964, and in 1966, won again, this time on 'Charlottown'. He took out the English jockeys premiership four times – 1961, 1962, 1963 and 1967.
From 1955 until his retirement in 1969, Scobie averaged more than 100 winners each year in Britain, as well as being highly successful in Australia. When he retired as a jockey, Scobie worked as a trainer until he moved back to Australia in 1993.
Scobie spent his last years living near Melbourne, occasionally returning to his hometown of Wagga Wagga as a special guest of the City and the Murrumbidgee Turf Club.
Scobie was the first inductee into the Australian Racing Hall of Fame (2001) and in 1996, Racing Victoria inaugurated the annual Scobie Breasley Medal for best jockey.
May predeceased her husband and Scobie himself passed away in 1996, following a stroke. He left many good friends, and a legacy of riding excellence.