Barry O'Hagan
Category: Local Legend
Sport: Cycling
Year Inducted: 2015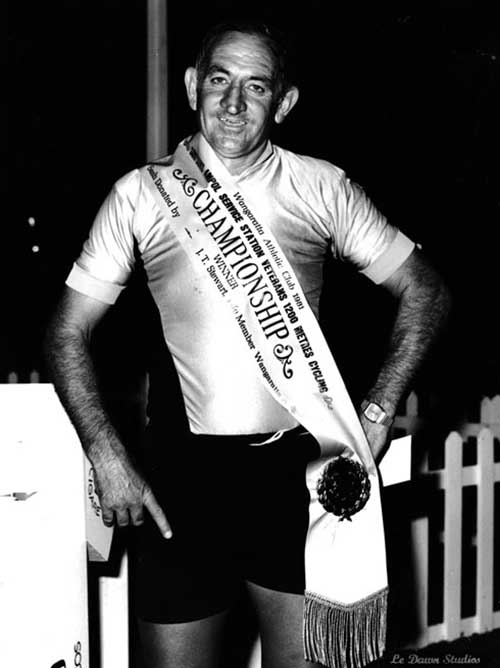 ---
"O'Hagan is a dedicated cyclist and rugby league player, who boasts a cycling career littered with achievements at international and professional level." The Daily Advertiser, 26 January 2015
Barry O'Hagan is a man of many talents, being not only an outstanding cyclist, but also an excellent rugby league player and coach. He performed at an international level as a cyclist, and at a senior regional representative level in league. One of the most remarkable aspects of his cycling career is his longevity, with Barry consistently winning major races over a 38 year period.
Barry was also a skilled shearer. One memorable day in 1963, at a town called Scottsdale near Launceston, he displayed his versatility. After winning the five mile scratch race that morning, he then got up on a stage in his cycling gear to compete in a shearing competition. He won.
Barry rode his whole career as a professional cyclist, often earning big prize money in the days when the sport attracted huge crowds and sponsorship. One of his stellar accomplishments in 1960 was winning first place in the 3000m La Trobe Wheel Race in Tasmania. The race featured the best Australian cyclists and the prize money was equivalent to three years' wages.
In 1962 Barry became one of only six 'scratch men' in Australia. Here, the riders compete in a 'scratch race'. Beginning together on a track, the objective is to be first over the finish line after a certain number of laps. Sid Patterson, the legendary Australian cyclist and four-time world champion was also a member of this group.
When the Wagga Cycling Club closed in 1965, Barry was part of the new committee which re-established the Club ten years later, in 1975. Two motor cars were raffled to raise funds to reseal the cycling track at the Wagga Velodrome, which is still in use today.
Barry is a long-term President of the Wagga and Tolland Cycling Clubs, and a life member of both. He still holds the position of a senior State Official with the NSW Cycling Federation.
Today in 2016, Barry contributes to the sport of cycling at a local level. He is an assistant handicapper at state level, where his role is to make judgement about handicaps to apply to cyclists, depending on their ability. Since 1998, he was also been a State Commissaire (a position formerly known as referee). He also acts as a mentor to up and coming cyclists, and continues to inspire countless local athletes to replicate his success. In 1997, Barry won the Australian Road Race championships. This event turned out to be his last race, as a failed back operation ended his professional cycling career.