Philip Bain
Category: Sporting Hall of Fame
Sport: Target Shooting
Year Inducted: 2003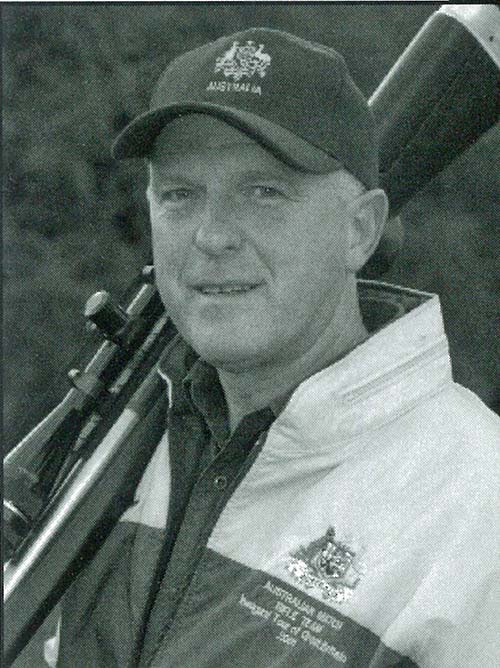 "…Wagga's Phillip Bain claimed the individual match rifle championship, finishing 10 points ahead of the next competitor." Southern Cross, 23 October 2014
Wagga Wagga born and bred, Philip took up target shooting at age 25, whilst working in Sydney. In 1979 his job brought him back home to Wagga Wagga where he continued to develop his shooting prowess. In 1984 Philip won the prestigious Queens Prize in Melbourne, one of the pinnacles of target shooting in Australia.
In 1995 Philip added ultra-long distance Match Rifle to his shooting skills. Match Rifle is target shooting conducted over distances in excess of 1000 yards (900 metres).
Philip became a member of the Australian Rifle Team in 2000 and since then has represented Australia six times – in 2001, 2004, 2006, 2010, 2012 and 2016. In the 2001 Australian Match Rifle Team tour of the UK, Philip set a match rifle range record at Blair Atholl in Scotland, and won the Prince of Wale's Prize in target rifle at Great Britain's Imperial Meeting.
Just as cricket has The Ashes, target shooting has the Woomera Trophy. Contested between Australia and Great Britain, it was first shot for in 1997 in Tasmania. In 2010, Philip was a member of the Australian Match Rifle Team that competed in the tightly contested teams match, and brought home the trophy, winning by 3 points against their rivals. This is the only time Australia has won the trophy.
Philip won the Australian Match Rifle Championship in 2014 and up to 2016 has won 14 State Match Rifle Championships – winning the NSW and Tasmanian titles four times each and the South Australian and Victorian titles three times each. He has represented NSW in the State Match Rifle Championships since 1998. In 2016 he was appointed as both Captain and Coach of the NSW team which successfully won the overall aggregate of the State Teams' events.
In 2016 Philip continues to compete at the international level, travelling overseas regularly to compete in both individual and team events at the highest level. He has also held executive positions in both the Australian and NSW Match Rifle Associations over many years.