Sylvia Seccombe's Doorknocker collection
Tuesday 14 February 1933 stood out in Mrs Sylvia Seccombe's memory as being "one of those glorious blue days". It was a day that changed Sylvia's life. While exploring Windsor, an early colonial town on the Hawkesbury River, N.S.W., Sylvia noticed some door knockers on the quaint cottages, causing her to suddenly exclaim "O – I simply must have a knocker!"
There commenced her unique hobby, which was to enthral Sylvia for the rest of her life. She purchased her first knocker, a brass piece with no manufacturer's markings, for sixpence from an old junk shop in Windsor.
This knocker is displayed on one of the original cedar blocks upon which Sylvia's collection was mounted and hung along the hallways in her Downside home. Sylvia was a passionate collector. In her lifetime, she collected door knockers and decorative door furniture, but also cow bells from all over the world and fine china, adding to the collection begun by her father. All pieces were exhibited in her home.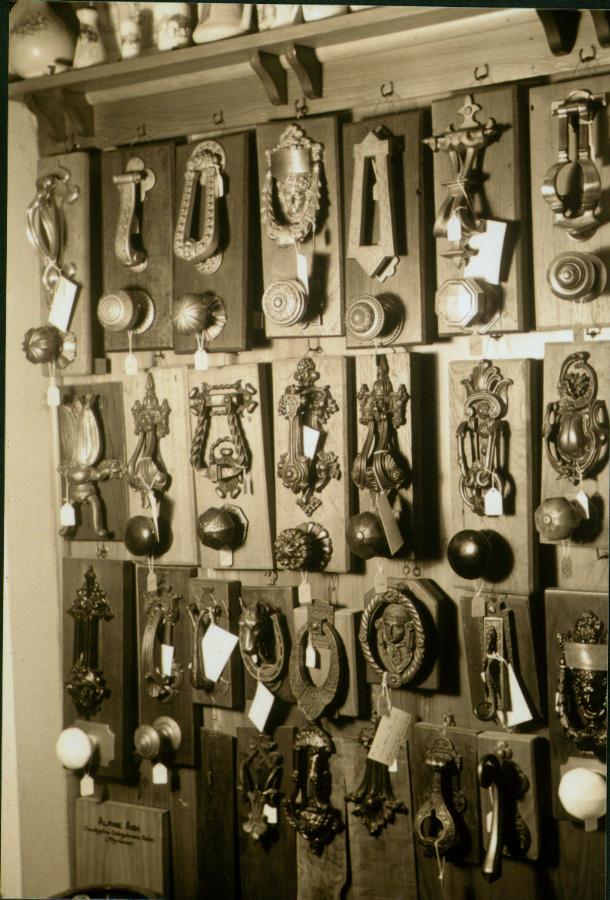 Sylvia Seccombes Display of Knockers at her Downside Home
Sylvia Mary Baker was born at Ashfield, NSW in 1892. Her father, Richard Thomas Baker (1854 – 1941) was a museum professional. Appointed Assistant Curator at the new Technological Museum in Sydney (now the Museum of Applied Arts & Sciences) in January 1888, by 1896, he was in charge of the Museum.
In 1925 Sylvia married Gallipoli veteran and farmer Austen Horace Seccombe, DCM, and following their marriage, the newlyweds settled on a soldier settler's block at Coursing Park (approximately 30km north of Wagga).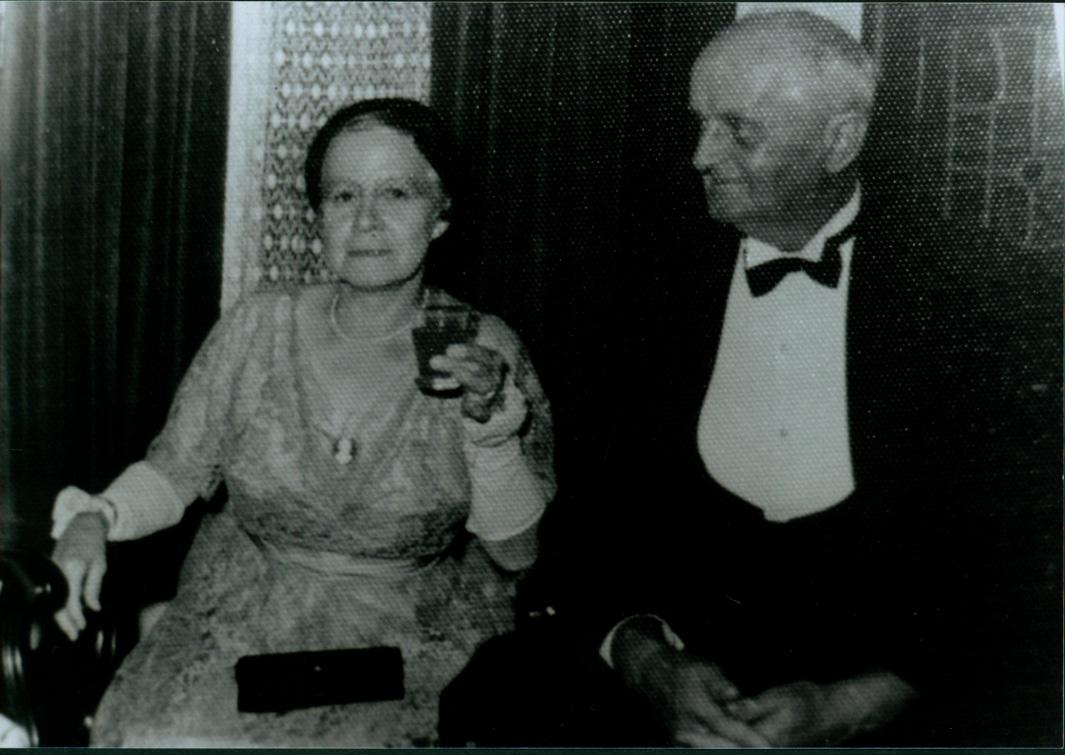 Austin and Sylvia Seccombe
The knockers in Sylvia's collection are many and varied. Many were manufactured in England, as either souvenir pieces or for use by Australian homeowners.
Among the knockers are pieces which are all that remain of the homes demolished for the Sydney Harbour Bridge and the old business houses that stood along Baylis Street. There are also rarities, including a sanctuary knocker and a knocker removed from a baronial castle once standing in Marrickville. Unfortunately, many knockers from early Australian homes were discarded, being thought too ordinary to earn a second glance. Wagga is fortunate that Sylvia was drawn to collecting her door knockers. While amassing a collection that is second-to-none, she has also provided a window to the past for future generations, and preserved a unique part of Australia's social history which may otherwise have been lost.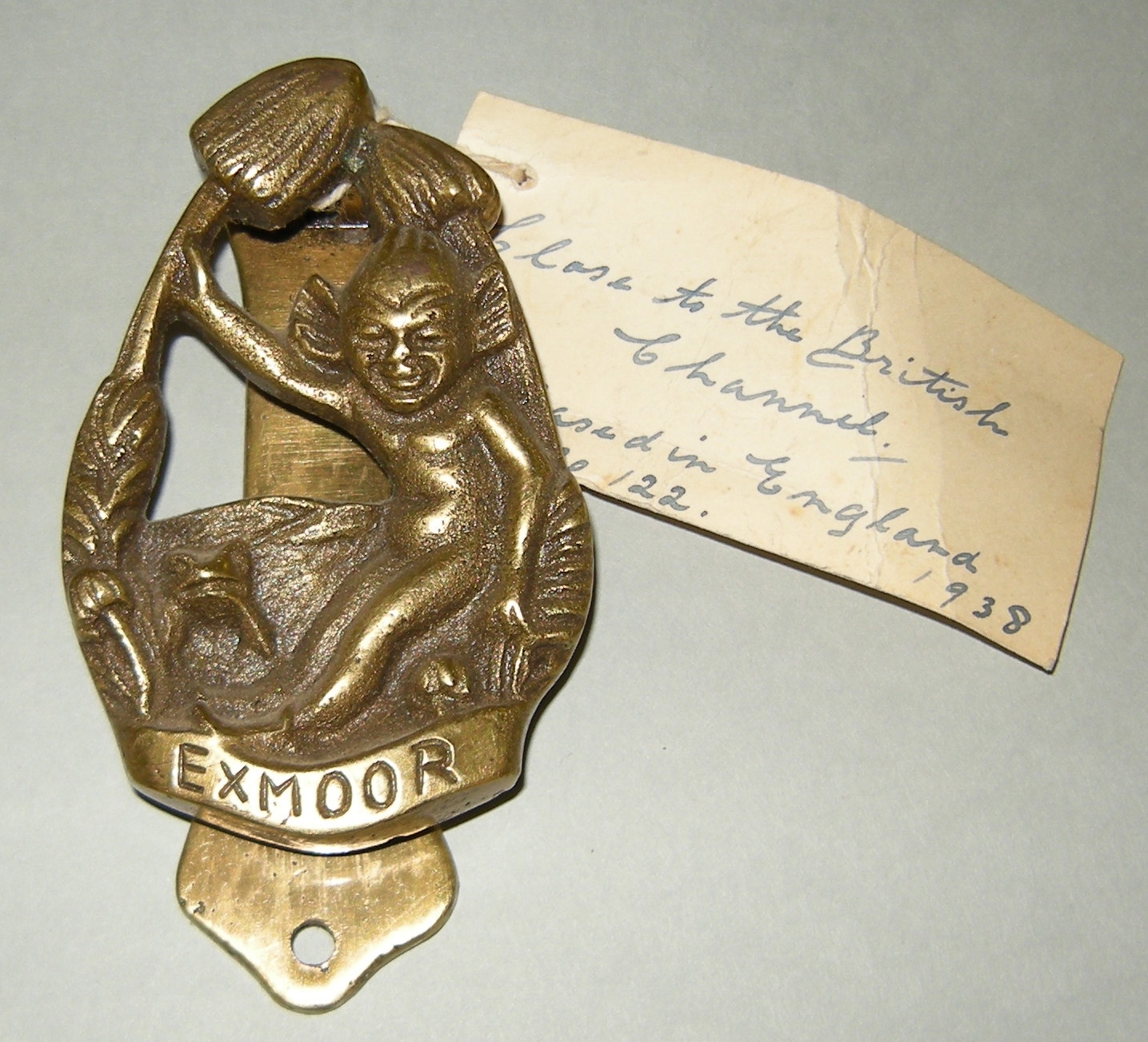 One of Seccombe's knockers, collected in England in 1938
Upon her death, Seccombe's collection of door knockers was donated to the Museum of the Riverina.