Monks+Hardy: We Built This City

C Hardy & Co Builders
For four generations, C. Hardy and Co was recognised as Wagga Wagga's most influential building firm.
The founder of the company was Charles Hardy, described by contemporaries as a 'true Englishman' and a 'thorough gentleman'.
Born in Corfu, Dorset shire, England in 1833, he arrived in Australia at the age of 21, not long after completing his apprenticeship in the building trade in London.
He moved to Wagga with his wife Ellen in 1861 after gaining valuable experience with his father-in-law, W. H. Downey, in the Yass and Queanbeyan districts.
For over forty years Charles Hardy was the main building contractor in Wagga Wagga initially in partnership with fellow Englishman Thomas Hodson and later on his own account as C. Hardy and Co.
His firm erected many magnificent buildings - court houses, railway stations, schools, churches, convents, hotels, bridges, shops, breweries, mills, factories and private residences not only in Wagga Wagga but throughout the Riverina and as far away as Euston on the Murray River. He established his own timber yards, brickyards, lime kilns, sawmills and joinery works.
Charles Hardy insisted on a high standard of work. He sent for many of his tradesman from England and personally supervised most of the building himself, travelling long distances in a sulky.
His buildings were always solid and with the increasing use of architectural ornamentation during the Federation era, he insisted on the use of fine joinery both internally and externally.
A progressive citizen, Charles also took a keen interest in local and state affairs. He was an alderman on the Wagga Wagga Municipal Council for many years and was the Mayor from 1902 to 1903.
Charles Hardy's eldest son, Charles, joined his father after he completed his schooling and received a sound training in the technical and administrative side of the business. A deeply religious man, he married Mary Alice Pownall, the daughter of Archdeacon William Henry Pownall, the rector at Wagga Wagga, in 1890. He was an enthusiastic worker for the Church of England holding various offices at St John's Church including that of churchwarden and member of the Synod.
After the death of his father in 1908 Charles carried on the business with the assistance of his brother, William Henry (known as 'Harry'). The firm continued to attract large contracts and provided steady employment for up to 100 workmen.
In April 1922, the retail branch comprising the joinery factory, timber yard and ironmongery was sold to a limited company (Hardys Limited). Charles and Harry Hardy were the controlling directors while Charles Hardy junior (later Senator Hardy) was the General Manager.
The old joinery works were demolished and a new modern factory constructed in Coleman Street on the main southern railway line. It was equipped with expensive and modern timber-dressing machinery selected by Charles Hardy junior on a trip to America. Charles and Harry Hardy remained the principals of C. Hardy and Co.
Harry died on 26 March 1933 while Charles died on his 70th birthday, 31 January 1934.
The Hardys made a lasting impact on the appearance of Wagga Wagga and many of their buildings can still be distinguished in Wagga Wagga today.

Exhibition curator Genevieve Mott, August 2008
Photograph: Charles Hardy (1833-1908) seated, with his sons and brother in law, Henry Downie. Charles (1864-1934) seated left, William Henry "Harry" seated right, Joseph standing left, Frederick seated lower left, Walter seated bottom centre, Arthur seated lower right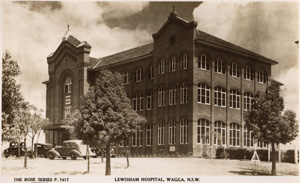 The Hardy and Monks Families
Both the Hardy and the Monks families played a prominent role in Wagga Wagga in the late 19th and early 20th centuries. The two families, particularly the second generations, formed a close association.
The Monks and Hardy children were all born and reared in Wagga Wagga which, in the 1870s, only had a population of 2000 people. The Monks children resided at the Pastoral Hotel in Fitzmaurice Street while the Hardy children, six boys (Charles, Joe, Wally, Harry, Fred and Arthur) and four girls (Bessie, Minnie, Eliza and Ann) lived nearby at 'Dorset' cottage in Trail Street.
The Hardy and Monks boys all attended the public school in Gurwood Street.
Charles, Harry and Arthur Hardy and Bill Monks played cricket and tennis. Charles and Harry Hardy were particularly athletic and represented a Wagga Wagga District cricket team against a visiting English XI in 1888 and Charles represented NSW in a football match against Queensland in 1884.
Although Bill Monks lacked the sporting talent of the Hardy boys he, like Charles and Harry Hardy, served on the executives of various sporting clubs.
Monks remained good friends with the Hardys particularly Harry Hardy and his unmarried siblings, Bessie, Annie and Arthur, for many years, exchanging autographs and postcards.
By the early 1890s, while William Monks was establishing himself as an architect in Wagga Wagga, his friends, Charles and Harry Hardy, were joining their father's building business, C. Hardy and Co.
William Monks' designs were of a high architectural quality while C. Hardy and Co was renowned for the style, finish and solid nature of its work.
The friends collaborated on a number of projects notably:

Company Office Building for the Murrumbidgee Flour Mill (1890s)
J. J. McGrath's saddlery, Fitzmaurice Street (1893)
Hogan's Brewery, The Esplanade (1899)
Major Extensions to Mt Erin, the Boarding School (1892), Infants School Room (1901) and the Chapel (1915)
Extensions to St John's Church including the addition of two aisles, narthex, clergy vestry and belltower (1912)
Wagga Wagga Hospital, kitchen block and nurses quarters (1908-1909)
Conversion of Foxborough Hall into St Joseph's Hospital
Lewisham (later Calvary) Hospital (1930)
Completion works at St Michael's Cathedral, Wagga Wagga (1922)
Residences at 77 and 79 Johnston Street, 53 and 95-97 Gurwood Street, and 16 The Esplanade.
The home at 95-97 Gurwood Street designed by Monks for Harry Hardy and built by C. Hardy and Co c.1910 is an excellent example of their collaboration.
Here Monks advanced his asymmetrical design approach by highlighting the corner bay window with a conical 'candle snuffer' roof. The roof also features tall decorative chimneys with a stucco finish, decorative gables on all sides and a gablet (i.e. a small gable) which was used as a decorative feature that he seemed to particularly favour.
This eclectic mix of features in one building is what gives this work its distinctive 'Monks' flavour. The construction reveals the refined simplicity and strength typical of the work of C. Hardy and Co.

Exhibition curator Genevieve Mott, August 2008


William John Monks - Architect
William J. Monks had one of the most successful and extensive architectural practices in country New South Wales for over forty years.
Born in Wagga Wagga in 1869, William John Monks (also known as 'Bill' or 'Billy') was the oldest child of local publican Alfred James Monks and his wife Ellen Bowe Monks.
A shy youngster, he was raised at the Pastoral Hotel, owned and licensed by his father, with his sisters, Bessie and Nell, and younger brother, Alfred.
He was educated at the public school in Gurwood Street, Wagga Wagga, and was remembered by fellow pupils for his 'taciturnity'.
In 1883 William and his family moved to East Petersham in Sydney while he attended Newington College as a day student.
After leaving at the end of the second term in 1885, he served articles with Stockham and Hassall, a firm of Sydney architects, for five years.
In 1890 William Monks returned home and commenced working on his own account in an office provided by his father at the Pastoral Hotel. By the early 1900s he had moved into an office in Gurwood Street and by 1916 was employing a draftsman, Christopher Ernest Jeffs. He later formed a partnership with Jeffs and for a while with Roy Ashley Shaw (known as Monks, Jeffs and Shaw and, from 1932, as W. J. Monks and Jeffs). He retired in 1938.
Monks worked during an interesting and changing period of Australian architectural history when design shifted from symmetrical staid Victorian buildings to the new asymmetrical decorative Federation buildings.
While most of his designs adhered to a Federation style, interestingly he was courageous enough to mix details from both periods of design, however with the decoration to his buildings they fall under the general category of 'Federation'. The common thread in all his designs was the use of asymmetrical design, the decorative treatment of gable ends, feature chimneys, decorative timber work at verandahs and eaves and the prominent location of a bay window.
Although he never married, William Monks maintained a close relationship with his sisters and brother and several friends, including the Hardys.
Although in his younger years he did play cricket and tennis, and was involved with the School of Arts and the Murrumbidgee Pastoral and Agricultural Association, in his latter years he preferred the outdoor sports of hunting, shooting and fishing.
He died in Melbourne on 2 July 1943. While some of his buildings have been demolished or altered, those that remain such as St Michaels Presbytery, Mt Erin Chapel and the Johnston Street houses (including his own home) are a reminder of his legacy.

Exhibition curator Genevieve Mott, August 2008

Monks and Hardy
Architect and Builder Collaboration
Throughout history the collaboration between architect and builder has been very important in the creation of buildings.
The architect has the vision for how the building will function and how the spaces will look, but needs to work closely with the builder to achieve his aims.
During this process an important bond is formed, sometimes enduring several building collaborations over many years.
Today the final building is a product of a number of professionals for design and a number of subcontractors for the building, therefore the relationship between the Builder and the architect is not so unified. As a result of the manner in which the building industry operates today, the architect generally does not have any influence on the selection of the builder.
New buildings today are publicly tendered and therefore the architect does not get the opportunity to select a preferred builder.
However, in the past and at the time that Monks and Hardy were plying their trades, there was a much closer bond between architect and builder.
In this era the architect was the sole professional who was responsible for the whole building design including structure, appearance, materials selection and building comfort. He was the one stop show with whom the client dealt and would rely upon for selection of design elements. Equally, the builder was solely responsible for the construction of the building and selected specialized tradesmen, skilled people who were able to undertake all the tasks, to complete the building.
Thus, between the architect and builder, a bond was formed and it was generally accepted that the architect would use a builder he knew could satisfactorily complete the work, thus creating the architects 'Grand Design'.
Monks worked in an interesting and changing period of Australian architecture where he used many distinctive decorative elements on his buildings and therefore needed to be confident in the builder being able to achieve his vision.
In the late 1800's, when Monks was designing his own house, he appears to already have an association with Hardy (the prominent builder in Wagga Wagga at the time), who had constructed the house next door for Monks a few years earlier.
Over the next few decades, their relationship grew. A number of prominent buildings in Wagga Wagga designed by Monks were built by Hardy including a house for Harry Hardy at 97 Gurwood Street.

Monks + Hardy .... We Built this City
Noel Thomson, Architect, Chair Riverina Regional Committee, National Trust of Australia (NSW), August 2008.