From Barbed Wire to Boundary Fences: The soldier settlers of Tarcutta and Wantabadgery
Please note: This exhibition is usually on display at our Botanic Gardens site. The site is currently closed for our museum upgrade.
Our Historic Council Chambers site will remain open with SHE currently on exhibition. You might also be interested in Container — The box that changed the world, a free, outdoor exhibition on display until Sunday 5 May.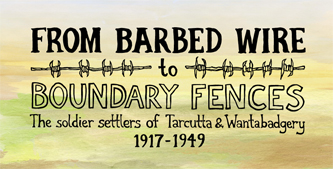 Botanic Gardens site
This exhibition tells the stories of soldier settlers who, after the First and Second World Wars, exchanged the barbed wire of the battlefield for the boundary fences of a soldier settler's block. It is the story of two of the Wagga Wagga Land District's largest estates, Tarcutta and Wantabadgery, and the men, women and children who made their homes there.

Unearth the personal stories of the returned servicemen and their families who began new lives on soldier settlement blocks. Discover how young boys on the post-World War I Tarcutta estate entertained themselves, what living conditions were like, and where the millions of rabbits which overran Wantabadgery in the 1950s ended up!