My Little Museum
My Little Museum is a free HSIE stage 2 portable education program that allows students to explore the theme of cultural diversity and migration while introducing them to aspects of Wagga Wagga's history and the Museum of the Riverina's permanent collections.
The portable education kit is a suitcase that contains teachers' notes, 11 different student activity sheets, resource materials, and hands-on objects suitable for full class participation.
After completing this program we encourage you and your class to visit the Museum of the Riverina at our Botanic Gardens Site. Here you can see parts of the From all four Corners exhibition that this program was based on as well as experience other children's activities such as Kidzone, Wii Sports and Kidztrack.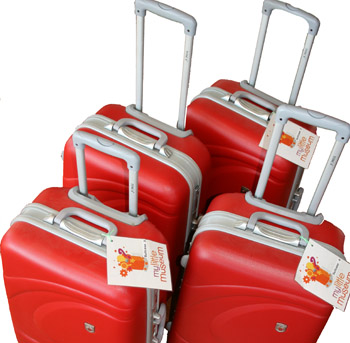 How to book or for more information
Bookings are taken on a first-come, first-served basis and we make every effort in providing your preferred date. Suitcases are available for a set loan period of up to one term. The portable education kit can be collected and returned to the Museum of the Riverina, Botanic Gardens site.
You can book by phone: 6926 9654
Email: kurylowicz.tim@wagga.nsw.gov.au
My Little Museum - Booking Request Form (36KB)
Curriculum Links
HSIE Change and continuity- Time and change
CCS2.2: Explains changes in the community and family life and evaluates the effects of these on different individuals, groups and environments.
HSIE Cultures - Identities
CUS2.3: Explains how shared customs, practices, symbols, languages and traditions in communities contribute to Australian and community identities
HSIE Cultures - Cultural diversity.
CUS2.4: Describes different viewpoints, ways of living, languages and belief systems in a variety of communities.
HSIE Environments - Relationships with Places
ENS2.6: Describes people's interactions with environments and identifies responsible ways of interacting with environments.
Refer www.boardofstudies.nsw.edu.au K-6 Educational Resources/HSIE syllabus