Geoff Kingston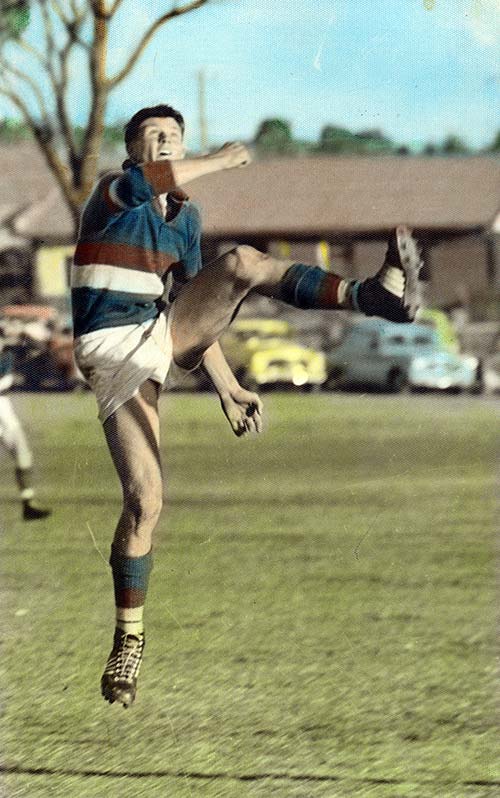 Inducted for achievements in Australian Rules football
---
"Elegance in motion" Jeff Pash, former Australian Rules footballer
Geoff was born in Melbourne on 23 November 1941, but moved to Wagga Wagga as a child when his father transferred there with the Post Master General's office.
He attended South Wagga Primary and Wagga Wagga High schools, and played all of his club football with the Turvey Park Australian Rules Club. In October 1954 Geoff was awarded the 'Mrs Butler' Cup, for the most consistent player under 13.
Like most local boys, Geoff played all codes of footy, but ended up focussing on Australian Rules because his Tasmanian-born father wouldn't buy him new boots unless he played Aussie Rules!
Geoff was recruited from Wagga Wagga by West Torrens in the South Australian National Football League (SANFL) in 1960, and the following year, he was selected as full-forward for the All-Australian side. In his second season (1961) he kicked 79 goals to top the league's goal kicking for that year. The biggest influence on his sporting career was former Essendon legend Dick Reynolds, who coached at West Torrens when Geoff played there.
He represented South Australia at fifteen interstate matches, playing against Victoria, Western Australia and Tasmania, and competed in two Australian Championships, and kicked 47 goals.
The biggest challenge in his career came in 1963 when he played full-forward for South Australia against Victoria, at the MCG in front of 80,000 fans.
Geoff won West Torrens' Best and Fairest Award in 1965.
In 1976 The News newspaper listed Geoff as one of their top 25 stars in any era, stating 'Geoff Kingston (West Torrens) gets the full-forward spot because he proved himself in Brisbane in 1961, kicking five goals against Victoria and four each against Western Australia and Tasmania in hot competition.'
A serious left knee injury ultimately ended Geoff's football career. In 1964 Geoff became a sports journalist for the Adelaide Advertiser newspaper, and Chief Football Writer from 1979 – 1989. He was also a part-time columnist in 2000.
From the time his playing career ended, Geoff spent the next 25 years travelling the world and covering major sporting events, including the Olympic and Commonwealth Games, Wimbledon, The British Open, The U.S. Open and the U.S. Masters Golf, for a variety of media outlets. Geoff considers his experience of attending the U.S. Masters Golf tournament in Augusta, Georgia, as one of the highlights of his career in sports journalism.
Geoff was Media Manager for the Melbourne Commonwealth Games in 2006, Media Manager and Supervisor for APEC (Asia Pacific Economic Conference) in Sydney (2007) and Media Manager and Supervisor for World Youth Day, also in Sydney (2007).
In 2008 Geoff was inducted into the South Australian Hall of Fame, for his achievements in sport and media.
Two years later, Geoff published a bestselling biography 'Black Crow – the Andrew McLeod story', about the Adelaide Crows player who statistically, was the greatest indigenous player in AFL history.
The following year (2011) Geoff published his second book, another bestseller titled 'Kiss My Arse – the Bob Francis story', a warts and all look at the life of South Australian radio personality Bob Francis.
In 2015 Geoff was selected in the Riverina 'Team of the Century', alongside fellow Sporting Hall of Fame alumni Paul Kelly, Terry Daniher, Wayne Carey, Cameron Mooney and Bill Mohr.
Today, in 2016, Geoff lives in Adelaide with his family.